How to change the username when accessing a local network share in Windows 10 Pro 1903?
Scenario:
I am trying to access a local network share \\192.168.1.1\, my home NAS.
Windows prompted me for a login and password, which I provided and were accepted.
Six out of seven folders/network shares on my NAS are accessible to all users, and I can access them without issue. However, the 7th share is only accessible by admins.
Windows prompted me for network credentials again, but this time in a different dialog window: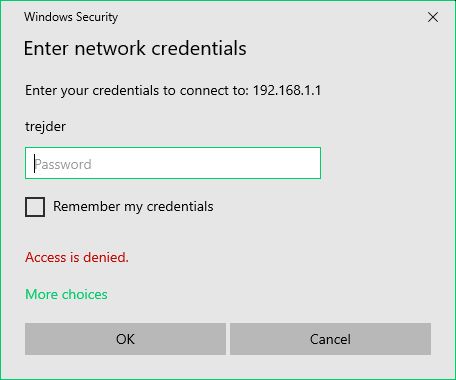 How do I change the username in this dialog to "admin"? The username field is not editable and the "More choices" button is disabled.
Note: My mouse gets frozen for 10-30 seconds when clicking anywhere within the dialog.
Side note: I have only been using Windows 10 Pro for the past five hours, so this is new to me.
For years I used Windows 7 Home with the same home network/NAS and never had an issue. Whenever access was denied, the dialog presented was editable for both username and password.

To change the username when accessing a local network share in Windows 10 Pro 1903, follow these steps:
Click the "Windows" button + "X"
Select "File Explorer"
Right-click "This PC" and select "Map network drive"
In the "Folder" field, enter the network path (e.g. \192.168.1.1)
Check the "Connect using different credentials" box
Click "Finish"
Enter the desired username (e.g. "admin") and the password when prompted
By following these steps, you should be able to access the local network share as a different user.

Windows stores one credential for each target, which is causing the issue. When you first log in to a remote computer, Windows saves the credential, so when you log in again, it only asks for the password because it thinks it already knows the username.
To fix this, you need to make Windows forget the previous credential, so it will prompt for the entire login information. Here's how:
Open Credential Manager.
Click on Windows Credentials.
Delete all credentials for the target computer.
If you see "192.168.1.1" under Web Credentials, delete it too.
The next time you log in, Windows will ask for both the username and password.